Sold out for Christ!
Scroll Down
'Fittest Man on Earth' Rich Froning Jr.: Put Jesus First, Everything Else Will Fall Into Place
August 7, 2013|9:46 am
The "Fittest Man on Earth" is 26, stands at 5 feet, 9 inches, weighs 195 pounds, and is on fire for Jesus.
"I put Christ first and everything else fell into place," Rich Froning, Jr., who took his third victory in the 2013 CrossFit games earlier this year, told The Christian Post in a Tuesday interview. In June, he released a memoir, First: What It Takes To Win, where he shared "the secret to his own success both in and out of the gym": his faith.
Froning hasn't always won these competitions, however, and he hasn't always put Christ first. In the 2010 games, he fell short, and realized that he needed God's strength to win the prize.
"I let CrossFit consume my life," he said. "I idolized it." The athlete recalled that, even though he was raised Christian, he wasn't living the life God had in mind.
Right before the 2011 season started, he made a drastic commitment, tattooing his entire right side with the verse "Galatians 6:14." The verse taught him humility and helped him keep God at the center. In the King James Version, it reads "God forbid that I should glory, save in the cross of our Lord Jesus Christ, by whom the world is crucified unto me, and I unto the world."
Froning also said this focus on the cross motivates him when he feels like giving up. Also since 2011, he has the verses of Jesus' crucifixion in the Gospel of Matthew written on his shoes. In moments of fatigue during events or training, he looks down and draws strength from the fact that, whatever pain courses through his nerves, Jesus Christ endured far worse for him.
Follow us
This champion's dedication to the faith doesn't just show on his body, but in the company he keeps and even the music he listens to. Froning said he listens to worship music while working out, and consciously hangs out with people who will strengthen his faith.
"Faith, family, and fitness – that's the order I try to keep things in," the athlete said.
While he has won the CrossFit games three years in a row, Froning admitted that this year was the hardest. After performing badly at his first event, he was ready to accept second place – not in defeat, but in calm faith.
Remembering Jeremiah 29:11-13, the athlete said he sought God in prayer. Rather than strain for success at all costs, he surrendered to the Lord, gave it his all, and won his third championship.
"I wholeheartedly believe that God's given me these talents and this ability to glorify Him," the victor said. He articulated a central theme in his book: that failure is a key part of success – true victory rests in how many times you get back up. "It's how many times you get back up that defines you."
Froning, who has worked and trained with CrossFit since 2009, praised the organization's method as the most natural, as God designed the human body. "The movements we do are complex but natural, they're picking stuff up off the ground, running, jumping, climbing – stuff that we were made to do, that we were created to do."
On its website, the organization boasts that it is "the principle strength and conditioning program for many police academies and tactical operations teams, military special operations units, champion martial artists, and hundreds of other elite and professional athletes worldwide." In aiming for a full-body, comprehensive fitness, it combines aerobics, gymnastics, and weightlifting with varied, high-intensity movements intended to strengthen the human body and make it more useful.
Froning, who has a history in baseball and firefighting, recommended CrossFit to anyone seeking a healthy lifestyle.
Darryl Strawberry Goes Public as Ordained Minister; No Longer Interested in Baseball Past
By Alex Murashko , Christian Post Reporter
July 12, 2013|9:37 am
Former Major League Baseball All-Star, Darryl Strawberry, whose legendary play on the field was coupled with a well-chronicled battle with addiction and legal problems in his personal life, said he is no longer the man he was before and that his top priority is leading people to Jesus Christ. He is now an ordained minister leading a wide-ranging ministry, including Christian-based recovery programs.
"I'm over 'Strawberry,'" he told USA Today Sports in his first interview with the media since becoming a preacher and ministry leader three years ago. "I'm over Mets. I'm over Yankees. I don't want to exist as Darryl Strawberry, the baseball player.
"People don't understand that's no longer you. I'm not a baseball player, anymore. That person is dead."
Strawberry, who played for the New York Mets and New York Yankees during a 17-year career that included four World Series championship rings, leads a ministry along with his wife, Tracy, devoted to helping people "who are suffering and in bondage to afflictions that are destroying their lives and relationships."
The mission statement for Strawberry Ministries reads, "Restoring lives and Relationships through the power of God and the process of change." He is an ordained minister according to his ministry's website.
Strawberry's quotes to USA Today Sports reflected the Scripture highlighted by his ministry, Romans 12:2, "Don't copy the behavior and customs of this world, but let God transform you into a new person by changing the way you think. Then you will learn to know God's will for you, which is good and pleasing and perfect."
He explained, "I never wanted to exist as Darryl Strawberry, the baseball player. I wanted to let go that identity. It's not who I am.
"I love that I was a great player, and won championships, and did all these great things, but I was always more driven. I knew there had to be more than just putting on a uniform and hitting grand slams and making millions of dollars," he told USA Today.
"I always believed there was a greater purpose to life," he said. "I used to be a big shot, let's put it that way. But I want nothing to do with baseball now. I have no desire to be working in baseball. No desire at all."
Strawberry, whose ministry is located 30 miles from St. Louis in St. Peters, Mo., reiterated that baseball was not as important to him anymore.
"I love the game, don't get me wrong, but I love the Bible more. I want to help people save their lives, and have the responsibility of leading people into following Christ," he said. "It's so hard to describe what that feels like, but I've never been happier in my life. It's so much fun being a pastor."
The couple plans to open two other Christian recovery programs in addition to the one they opened in Longview, Texas. Their ministry includes a prayer meeting every Friday evening at the Darryl Strawberry Adult Day Program for Autism building.
"They have meant everything to this community, particularly me," Marcia Funderburk, 58, told USA Today. She revealed that two of her adult children are heroin addicts. "You want to just throw in the towel, and give up. It's been such a nightmare. You're so beaten down.
"But they have given me such inspiration. It's awesome to see a guy that went so high, and crashed so low, and now he's pouring his heart and soul back into people."
St. Louis Cardinals Bring Christian Faith on Baseball Field
June 27, 2013|10:07 am
The St. Louis Cardinals have been causing discussions about faith when the Major League Baseball team began etching Christian symbolism in their Busch Stadium pitcher's mound.
The Cardinals have been vocal about their Christian faith, which prompted USA Today MLB writer Rob Rains assigned to the team to write the book "Intentional Walk: An Inside Look at the Faith That Drives the St. Louis Cardinals." That faith has also been evident to fans who have witnessed the cross and number six that has been drawn in the dirt on the pitcher's mound by the Busch groundskeeper.
Mike Matheny, the Cardinals' manager, has been vocal about why the team goes above and beyond to showcase their faith.
"I am not going to shove my faith down your throat, but when the opportunity presents itself, don't expect me to walk away, "Matheny told Rains in the team's first meeting last spring. "This is who I am, and Jesus Christ is at the center of my life. It's all that I am, every day, every decision that I make. I'm going to stand up and tell you what I believe is true."
While the cross on the pitcher's mound may be self explanatory to some, Yahoo! Sports recently uncovered that the number six featured on the field was drawn there to honor the late Cardinals' player Stan Musial who died last year.
Adam Wainwright, the St. Louis Cardinals' starting pitcher, recently spoke about finding the symbols when he goes to the mound before home games.
Follow us
"They've been there every time for me," Wainwright told the St Louis Post-Dispatch.
The team will engage in their 23rd Annual Christian Day which will highlight faith, fellowship and baseball on July 7.
"Christian Day is a wonderful day of faith and baseball that we look forward to every summer. This year we are excited to have national celebrity Willie Robertson joining us at Busch Stadium," said Joe Strohm, Vice President of Ticket Sales on the Cardinals' website.
Former American Idol Finalist Danny Gokey Pours Pain, Hope Into First Book
June 24, 2013|8:26 pm
ST. LOUIS, Mo. – When former "American Idol" finalist, now country music singer, Danny Gokey's first wife Sophia died just a month before he auditioned for the iconic show in 2008, he wanted to wallow in the pain of a loss he thought he would never get over.
"It was almost like, at that point I doubted everything I knew about God, I doubted everything that I've ever walked [spiritually] for because you don't understand that me and Sophia, my first wife, we believed that God was gonna do a miracle and He didn't show up," Gokey told an audience that had gathered for the "New Voices Showcase" segment of the International Christian Retail Show that began at the America's Center Convention Complex in St. Louis on Sunday.
"It really messed me up on the inside because everything I believed all of a sudden I started questioning," he added. Gokey didn't understand what was happening with his life then because he was in the middle of a story for a book that God had told him he was going to write in 2007.
This fall, Gokey is expected to deliver the book God spoke into his life five years ago titled Hope In Front of Me.
"Some of you are probably wondering in your head, 'why did Danny Gokey write a book?' I was thinking the same exact thing when God told me in 2007, that I was going to write a book. I thought it was the oddest thing," he told the audience.
"When the Lord spoke it to my heart, I said 'God, you know I love you Lord and I serve you with all my heart but who would want to hear anything that, I'd have to say? Little did I know, a year from that point I was gonna lose my first wife, little did I know that a year from that point I was gonna be trying out for a show called 'American Idol,'" he explained.
"I had no idea what I was about to face. But God speaking that word to me, and though I doubted it so many times, speaking that word to me became a point of hope."
(Photo: facebook/Danny Gokey)Cover shot of ex-American Idol finalist, Danny Gokey's new book, Hope In Front of Me
Hope In Front of Me is expected to take readers on a very personal journey into Gokey's loss. "I don't know how many people have experienced loss here but I experienced loss on a level that most people don't experience at such a young age. You know I tell people I feel like I've lived a life twice my age of what I've had to experience," he said.
"When I tried out for 'American Idol' it was a month after she (Sophia) passed away. People asked, 'why'd you do that?' Believe me, I didn't want to try out for this show. But I had made a promise to my wife that year that I was going to try out for 'American Idol' and when she passed away, everything inside of my heart said I don't want to try out for the show because I had nothing to say to anybody," Gokey recalled.
"I was so hurt, I wish I could go the next year but if you don't understand my story, is that I was 28 at the time and you only have until 28 years old to try out. So I was placed in a rock and a hard place and little did I know that God was writing my story before I got there. He put me in that place."
"And so I tried out for the show, very broken, very hurt," he continued. "I remember I started going through the 'American Idol' process. I remember when I woke up it felt like this depression came around me, like I was falling in a black hole … I was falling because I had nothing to stand on."
Despite his depression, Gokey soldiered on as he continued advancing on the show, finally making it into Hollywood week. "Hollywood week was probably the most difficult weeks of my depression going through the loss of Sophia. I remember right after Hollywood week, I told God, 'God, I do not want to be on the show. Because I have nothing to say to anybody and I was mad and I was angry," he said.
"I was mad at God and I didn't want to be mad at God. I mean you could accuse me of being a horrible person but that's what I was. And literally, this is what the Lord told me, He said, 'let go,'" noted Gokey.
"He gave me the verse, 'be still and know that I am God.' And I kept hearing it but didn't know what it meant. So I looked it up and saw it in the original Hebrew format that it literally was giving a picture. Sometimes, we hang onto stuff. And sometimes the things that we hang onto are the very things that drag us down."
The word became Gokey's turning point out of depression and put him on the road to recovery and reconciliation. "I remember I sat down on the end of my bed because this thing was destroying me. I sat down on my bed with tears coming from my eyes. I said 'God, I refuse to let this thing destroy me,'" said Gokey who explained that he was literally "hanging onto her casket being buried with her" by holding onto his depression.
The relief he experienced when he finally began to let go of his pain and loss immediately began delivering positive results for Gokey.
"At that moment, the moment that I let it go, it's almost as if someone pulled a plug from my heart. And bitterness, toxic anger, all these toxic emotions that I started feeling started pouring out of my heart," said Gokey who now believes God allowed him to go through what he went through in preparation for writing Hope In Front of Me.
"I'm not trying to be cheesy, but I talk about this in the book, your heart is your real set of eyes and if your heart is poisoned with bitterness you start seeing the whole world through that lens. And the more I started to let it go I had a new look on life," he said.
One of the things that came out of Gokey's journey through grief was a nonprofit in honor of his first wife called Sophia's Heart. The nonprofit focuses on helping homeless families get off the street. Last year, Sophia's Heart helped 25 families and this year they are on track to double that number.
"I had no idea. It's so cool how God writes the story. You can't see it and it doesn't make sense but that's why you've gotta live with the points of hope," he highlighted.
"And that's the whole premise of the book because there were so many points of hope."
Nik Wallenda defies death with successful tightrope walk over 'Grand Canyon'
'King of the High Wire' takes 'life or death' walk over 1,500-foot drop, but it was actually over Little Colorado Gorge; it was dramatic nevertheless
Nik Wallenda proved again Sunday that he is indeed the King of the High Wire, becoming the first person to walk a tightrope over the "Grand Canyon" in what was billed as a life or death stunt.
Indeed it was a death-defying act, crossing a 1,500-foot-deep canyon on a 2-inch steel rope, but it was a bit misleading, considering it wasn't exactly the Grand Canyon.
The place where Wallenda made his 1,400-foot-long tightrope walk was actually over Little Colorado Gorge in the Little Colorado River Navajo Tribal Park, land of the Navajo Nation, located near Cameron, Arizona, according Forbes magazine.
A tweet from Grand Canyon National Park on Sunday also made it clear the stunt was not in the park itself.
"The event would not have been approved in Grand Canyon National Park," Maureen Oltrogge, the park's public affairs officer, told Forbes.
But Navajo Nation gave Wallenda and Discovery Channel permission to use a gorge on its land.
The stunt was no-less dramatic, no-less grand, however.
Unlike his historic crossing of Niagara Falls last year when he wore a safety harness for the first time in his life, Wallenda returned to his modus operandi and did the breath-taking walk without a safety harness or safety net.
A misstep would have meant plunging to the bottom of the gorge and Little Colorado River below, a drop measuring more than the height of the Empire State Building.
A global audience watched live on Discovery Channel or Discovery.com as Wallenda successfully performed his highest tightrope walk ever, a 22-minute, 54-second endeavor that was every bit as intense and entertaining as expected.
"I did it," he said on Discovery Channel, tears running down his face just moments after getting off the wire.
Asked how he was feeling, he replied, "Emotional." Then he asked for some water.
"It was way more windy [than expected], and the movement of the cable, the sidewalls, as I was walking, were getting in the way and were confusing me as the pendulums were swinging against them. So I tried to react and when I react, I take the rhythm into the cable. It took every bit of me to stay focused that entire time. My arms are aching like you'd never believe."
Before he began his walk, Wallenda gathered with family and evangelist Joel Osteen for a prayer before he was delivered by helicopter to the other side of the gorge for the start.
Temperatures were 85 degrees with southwest winds of 6 to 13 mph with one wind gust measuring 48 mph.
Almost as soon as he began, Wallenda, a devout Christian, began praying.
"How I love you, Jesus … You're my Savior, yes Jesus … God, you're so good. Thank you for this opportunity. Calm these winds in the name of Jesus."
Twice during the walk, Wallenda kneeled down, providing some tense moments as his balancing poll swayed in the wind. The photo above shows the second time he kneeled. We presume what he was doing was trying to take the inconsistent bounce out of the wire and get the cable back into a smooth rhythm, as he spoke about in his interview.
Near the conclusion of his walk, which measured 1,400 feet, or nearly the length of five football fields, Wallenda ran to the end of the wire, jumped off, and then kissed the ground with a huge sigh of relief. No doubt those watching live exhaled, themselves.
Wallenda, 34, a married father of three who holds six Guinness World Records for various high-wire and acrobatic feats, signed a contract with Discovery Channel in 2012 for near-exclusive broadcast rights of his acts. He has made several death-defying tightrope walks, all performed without a safety harness or net.
In 2011, he walked a 100-foot wire at a height of 121 feet between two towers of a hotel in San Juan, Puerto Rico. It was a re-creation of the stunt that killed his great-grandfather Karl Wallenda in 1978 when a gust of wind caused him to lose his balance and fall.
In 2010, Wallenda rode a bicycle along a high-wire 260 feet above the ocean at the Atlantis Paradise Island resort in the Bahamas for a Guinness World Record for highest bike ride on a high-wire. He then took his longest tightrope walk of his career, going 2,000 feet over the resort's lagoon at a height of 250 feet.
And, of course, there was the tightrope walk directly over Niagara Falls last year.
What could possibly be next?
"My dream for my next stunt is to walk between two skyscrapers in New York City," Wallenda told Discovery Channel. "I can imagine the millions of fans that will be there watching, and that really is what holds me up, my fans."
Well, then, as Frank Sinatra would say, start spreading the news. But whatever he does next, whether it's NYC or not, no doubt his fans will be watching.
Models Ditch Fashion Industry to Pursue God
June 20, 2013|12:45 pm
More models are making a change by leaving the runway for their faith. Young Christian women in the fashion industry are realizing their Christ-centered beliefs are oftentimes compromised and now they're not afraid to speak out against the ugly side of glamour.
Committed to sharing a message of positive self-image and modesty, Nicole Weider left her modeling and acting Hollywood lifestyle for a higher calling. After modeling in Portland, Ore., since the age of 5, she made the jump to Los Angeles in search of fulfilling her dreams. "I was so infatuated with the fame game – it all looked so glamorous – but in the end it was quite the opposite," writes Weider on her blog, projectinspired.com.
Her time in the fashion industry, which she calls "the devil's playground," was spent reveling at the most coveted in-crowd nightclubs and rubbing elbows with high-profile celebrities. Yet the glitz and glam was only a mere facade of her life as an it-girl.
"Although I was running around with the cool kids and living the life of a starlet, I was still a small town girl in my heart," Weider writes. "Not only that, but something never felt quite right when it came time to actually audition. Each time a camera was focused on me, I didn't feel prepared enough, pretty enough, or completely ready to be scrutinized by the people who make it all happen," she adds.
Weider is just one of a slew of women to leave it all behind despite the perks modeling can have. The most recent to join the exclusive group of models-turned-Christian spokesperson is former lingerie model Kylie Bisutti. In 2009, Bisutti beat out 10,000 girls to win a Victoria's Secret Model Search competition and soon after, she found herself living her dream. She surprised the industry and girls who would kill to have her opportunity when she decided to stop being a model. She then made headlines recently for her new book, I'm No Angel: From Victoria's Secret Model to Role Model, that describes how she left modeling. Her decision to leave and settle down in Montana was triggered by her belief in God and her marriage. Now, she lives an alternatively different yet fulfilling life without the opportunities she once experienced at the height of her career.
While these women hail from once-upon-a-time elite backgrounds, the fashion industry has taken a toll on other Christian women. Jackie Panameno grew up Pentecostal and similarly to Weider and Bisutti, she left her hometown in Virginia for the Hollywood hills. Upon enrolling at the Fashion Institute of Design and Merchandising and a short stint at the Art Institute of Dallas, her desire to pursue a career in fashion became increasingly ardent.
"The fashion industry is a cold, egotistical environment. It's all about making a name for yourself and sucking up to others and stepping on people to get where you want to be," said Panameno. She admits considering Vogue Magazine and Women's Wear Daily her bible at one point. But along with her fashion obsession came disparity when she doubted her potential. "I spent most of my day thinking and worrying about my appearance. Was I skinny enough? Was my outfit trendy? Were my teeth white enough? These thoughts consumed my mind," admits Panameno.
Her epiphany to leave the industry occurred when she moved back to Virginia and decided to practice her faith once again. "As a Christian I felt I constantly fought this other person in me and the principles I had been raised on completely contradicted what I had become in the fashion industry. On the outside it all looks glamorous, but on the inside it's an ugly industry," she said.
For Weider, life took a turn when she fell into a depression when all the odds were against her. Before being rejected, disillusioned and humiliated during modeling jobs, she was at a Victoria's Secret commercial shoot where the reality of being in the fashion industry became surreal."There was a photographer's assistant at the shoot who was showing me the touch-ups he was doing to Giselle Bundchen's photos. He was making her thighs thinner and was smudging away her freckles," said Weider. "I was up close to these beautiful models during the shoot and I just couldn't believe he was telling me how much he loved his job," she added.
She also admits to having anxiety attacks, feeling insecure and recounts a time when she was rejected during a commercial audition. "I went in for a leading cereal company's audition and before the girls could enter the room to read their lines, there was a scale they had to step on to make sure they weren't over their weight limit according to their height." She adds, "When I stepped on, the woman took my paper and said 'thank you.' They sent me away for being two pounds over."
These days, Weider remains in Los Angeles and works full-time on her website acting as a mentor to her devout audience of Christian young women. "I have a God-awakening message and I want girls to know the industry is so manufactured, nothing what they see or read is real."
The Faith of Skateboarder Chad Tim Tim
June 19, 2013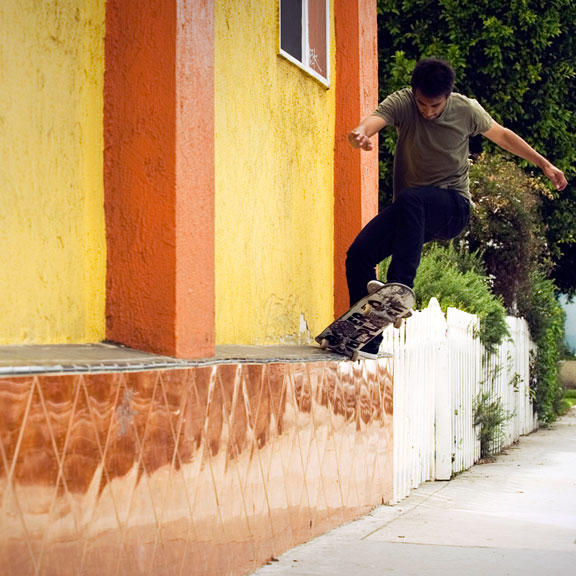 This skateboarder from California grew up in a broken family. He now influences kids around the world. See how Jesus changed the life of skateboard Chad Tim Tim.
Chad's story/Christian Post video
Chad Tim Tim is a professional skateboarder for Element Skateboards. Growing up in a broken household, Chad looked for fulfillment in parties and girls. As his popularity in the skate world grew he started to experiment with drugs. This skater's inspirational story tells how Christ picked him up from all time lows, and changed his perspective on life.
4-Year-Old Boy, Silas Endenfield
Embraces Heaven in Touching Video Days Before Cancer Kills Him
June 12, 2013|1:16 pm
Silas Endenfield 4, died from a rare liver cancer, Hepatoblastoma on May 25, 2013.
There was no fear it seemed. Four-year-old Silas Endenfield from Lyons, Ga., knew he was dying but days before his heartbreaking demise, the angelic toddler shared his excitement about going to heaven in a video so moving it brought many to tears.
"I just love heaven and I wish I was there all the time," said the toddler, personalizing the Christian paradise in
a video
recording published on YouTube six days after he died from a rare liver cancer called Hepatoblastoma on May 31.
His mother Jessica, who apparently shot the just under two-minute video, then continues to ask him about what he expected heaven to be like.
"I'm not sure," he responds thoughtfully.
"Are you gonna get a new body in heaven?" asks his mother.
"Yes," he replied.
"What's your new body gonna be like?"
"With no cancer … AND I won't be sick ever," he says.
"Are you gonna be alone in heaven?"
"Nope. God will be with me."
Little Silas then begins to tell his mother about his best things in his vision of heaven.
"You know my most favorite part about heaven?" he asks her in the video.
"That everything, that the streets are gold. And my next favorite part that I love is that everything is so great in heaven … And Jesus and God will be with me."
Silas attracted world-wide attention after his parents set up a Facebook page called Praying for Silas where they chronicled the toddler's struggle with the deadly cancer until his death. The page has been liked more than 50,000 times and the reaction to Silas' views on heaven there were also very emotional.
"Hard to fight back the tears! He was taken way too early, but as he said he will no longer be sick in Heaven. God Bless the family that is left behind, Silas is watching over you," wrote Shannon VanderYacht.
"I cried," noted Jessica McCall. "I just wish when it comes to my turn to go to heaven I can be as brave as your little boy, he has touched so many lives, so sorry he left us so young but at least he is no longer in pain and he probably is looking down on you smiling and he will be with you all the time."
"Little Silas knew he would no longer have cancer in Heaven. I love this child and his unwavering faith. The earthly world is so much dimmer without the little light of Silas . This video made before he passed makes me think of the children's hymn – 'This Little Light of Mine,'" wrote Suzanne Shelpman.
Jeremy Lin Explains Why Jesus Is Everything
Leland Adair tweeted this image of Jeremy Lin and James Harden during their game against the Detroit Pistons on Oct. 31, 2012, writing, "Jeremy Lin and James Harden, the new Houston Rockets backcourt."
June 6, 2013|6:28 am
Jeremy Lin, the 24-year-old Christian Houston Rockets guard who rose to fame when he became a starter for the New York Knicks in 2012, recently took time to show his fans appreciation while explaining why Jesus Christ was so important to him.
Lin recently took to Facebook to answer questions from fans during what he called Fan Appreciation Week. One fan asked Lin what Jesus meant to him and the NBA player did not hesitate to answer.
"Everything…without Him I wouldn't have a purpose in life," Lin answered on Facebook.
The guard shared that he is furthering his faith by currently reading "The Discipline of Grace" by Jerry Bridges. He also shared one of his favorite bible verses with fans, Philippians 4:7.
"And the peace of God, which surpasses all understanding, will guard your hearts and your minds in Christ Jesus," the verse states.
After his first NBA start as a Knick in February 2012, Lin managed to score 25 points and lead the New York team to a 7-game winning streak. The guard became the first player in NBA history to put up numbers of at least 20 points and seven assists in each of his first four starting games, causing sports pundits, celebrities and fans to name him and the phenomenon "Linsanity."
Follow us
However, Lin has been vocal about playing for God and not the fame that he acquired last year.
"I just play for God. That's what I need to focus on every day. I'm going to have good games; I'm going to have bad games," Lin told the Houston Chronicle last year. "If I play for God, if I play hard and if I try to give Him the glory, I'm OK. I need to learn to be OK with whatever happens and trust it's part of God's perfect plan."
Duck Dynasty Star: Fame Is Fleeting; What Matters Most Is Jesus Christ
By Melissa Barnhart , CP Contributor
April 26, 2013|4:48 pm
Duck Dynasty stars Phil Robertson, Si Robertson, Jase Robertson and Willie Robertson.
Phil Robertson, the patriarch of the Robertson family whose Duck Commander business is the backdrop for A&E's hit program "Duck Dynasty" will release a new book on May 7 titled, Happy, Happy, Happy, in which he shares his faith in Jesus Christ, his knowledge about the founding fathers, and how he's grown Duck Commander into a multimillion dollar business.
The hour-long season finale of Duck Dynasty was the most-watched program on television Wednesday night, beating out American Idol with 9.6 million viewers, which is a record for A&E.
Robertson credits all of his family's success to their faith in Jesus Christ and their devotion to living a Christian lifestyle. He told CP on Thursday that his family has managed to stay humble, amid all of the fame, because they know that all blessings come from God; and in the end, everyone's going to the same place: a six-foot hole.
"Fame is rather fleeting, as you know, or should know," Robertson said. "Money can come and go, and fame comes and goes. Peace of mind and a relationship with God is far more important, so this is the precedent that we've set in our lives. The bottom line is, we all die, so Jesus is the answer. Many have told me through the years: 'I think I'll take my chances without Jesus.' And I always come back and say, 'so what chance is that?'"
Robertson wasn't always a follower of Jesus Christ. In fact, for the first 28 years of his life, he said he lived a "sex, drugs and rock 'n' roll lifestyle," and rejected his sister's efforts to bring him to the Lord, until he read a sign in the Atlanta airport that stopped him in his tracks.
"I'm walking through the airport in Atlanta, and there was a large sign on one of the terminal walls and the question on it said: 'Were you born between the years of 1945 and 1965?' And as I was walking through, I stopped and said, 'oh, well that would be me.' I read on and the sign said: 'Report to the Centers for Disease Control immediately, because you're in the highest risk group on planet earth for hepatitis C.' The point is that for the first 28 years, I was in that group of individuals," Robertson said.
"Fortunately, no debilitating disease fell upon me," said Robertson who attributes his walk with Jesus Christ for all of the success he's achieved in the last 38 years.
Robertson told CP that his book, Happy, Happy, Happy, is an extended version of the speeches he's been giving across the country for the past 25 years.
"Basically, the book is about my life story," he said. "I've been speaking all over the United States about duck calling, the founders of the country, and the Gospel. Once I started doing that, people started asking me: 'How can I get a copy of what I just heard, why don't you write a book?' The book is just about that: ducks, founding fathers, and my faith in God. And the rest of the story is about how it all turned out – went from rags to riches, as they say."
Robertson also attributes his wife, Miss Kay, for the success of Duck Commander, and for being a Christian example to their four sons who are married and raising families of their own.
"I told Miss Kay we need to make sure our children don't turn out like I turned out," he said. "So they were raised up around biblical instruction. That mixed with discipline – the discipline code, I call it. They just had a lifestyle of seeing their parents do good things. I think maybe me loving their mother and me loving my neighbors around me had a profound impact on them. And what came out of that was four sons who are all married to their original wives. And they're acting godly and I think Miss Kay and I had a hand in that."
Phil Robertson, patriarch of the Robertson family and star of A&E's most-watched show, "Duck Dynasty." He's also the author of the new book, "Happy, Happy, Happy" that is based on his faith in Jesus Christ, the founding fathers, and his work at Duck Commander.
"So basically, I would recommend that to all parents. You have to discipline your children, or they won't respect you, law enforcement or God, or anyone else. But I would say, overarching, I made sure they knew that we loved them, their mother and myself. … They were loved, they were given biblical instruction, they were seeing their dad and mom reach out to their neighbors around them, helping them, whether it be financial or marriage problems."
Robertson quoted 1 Corinthians 15:1-4 and cited it as being one of the scriptures he likes to share with people. "So basically, I don't ever move too far past the death, burial and resurrection of Jesus, because it's of first importance. And I make sure it's of first importance with anyone I'm talking to. It all comes down to that, really, when you get right down to it. So it's not complex. Jesus removed our sins and guarantees we can be raised from the dead. I'm still waiting on someone to enlighten me on what story beats that one."
Part of the Christian lifestyle is the Christian work ethic, and Robertson achieved his dream of getting his duck call on the market by setting goals, maintaining his focus, and holding fast to his unwavering faith in God.
"I worked hard," Robertson said about his job as a commercial fisherman, catching catfish and buffalo while he worked to get his small business off the ground. "The first year, my gross sales totaled $8,000 in the duck call business. The second year was like $13,000, and the third year was $22,000. Simply put, I set a goal, stayed the course, and trusted in the Almighty. I did what was right, and the result is for everyone to see now."
Speaking about his book, Robertson said: "All I would tell people is the first 28 years of my life I wasn't going anywhere very fast. The last 38 went beyond anything I could've asked for or imaged. So it was either luck – I was just lucky, as the atheists probably would say – or I was blessed by the Almighty. I'm leaning toward blessings came once I was converted."
"I would tell anybody who was listening, 'Hey this is my story, a lot of good came out of it.' The second half has been far better than the first half, I can tell you that."
Si Robertson and Miss Kay will also release new books this fall, along with a Duck Commander Devotional.
From Korn to Christ–Interview with Fieldy
Four years after guitarist Brian "Head" Welch left the popular rock band after a Christian conversion, bass player Fieldy talks to Beliefnet about getting sober and becoming a Christian.
BY: Dena Ross
You may have remembered hearing the news back in 2005 that one of the world's most popular rock bands, Korn, was losing one of its members–to Jesus. Guitarist Brian "Head" Welch" decided that he wanted to make some major changes in his life–to get off drugs and embrace his Christian faith. Unfortunately for Korn fans, he also decided he could no longer stay in the band if he wanted to stay sober and live his faith.
Now, another member of the band, bassist Reginald "Fieldy" Arvizu has come out publically as a Christian and has co-authored a book, "Got the Life: My Journey of Addiction, Faith, Recovery, and Korn," (you can browse the book on Harper Collins' website) which was released earlier this month. However, unlike Head, Fieldy is determined to remain with the band.
In this interview with Beliefnet entertainment editor Dena Ross, Fieldy talks about what brought him to embrace Christianity, how he plans to stay sober, and Korn's response to his conversion.
Your new book begins with a vivid recounting of a night when you were drunk and physically abusive to your wife. Was that your breaking point–when you knew you had to make a really big change?
That was the beginning of my breaking point. I think it all started coming down when after seven days a week, 20 years straight of partying, my body not being able to take it anymore. And then, to top it off, things like that were happening all the time. That's one of many stories in the book. And then to really top it off, my dad goes into the hospital and dies.
Your dad was a Christian?
He walked with the Lord for 18 years.
Did you grow up in a Christian household?
Actually, we never had anything like that. Back in the day if people would even mention the name Jesus, I was like, "What? What's that?" I didn't even know. I didn't know anything.
So he became a Christian when you were older?
Yeah. I already lived on my own. But when we did hang out together, there was something about him—he had so much peace; he was just content. I liked that about him.
Now that you're a Christian, do you experience that same peace that you saw in him?
Yeah. I think I do. It's somewhat like peace, but it's not like you become a Christian and [your] problems go away. I still have my everyday struggles of life and situations that come my way. But I found the difference now is when difficult situations come my way, I'm on a strong foundation and I know how to handle the situation. I don't know how, but following and walking with Christ, He shows me how.
When exactly was the point when you decided to become a Christian?
It was probably after my dad's death. It was a slow process [that] changed me. Actually, it seems really slow, but it goes really fast—it's been three-and-a-half years. But, it was real casual and slow, and it still is today.
The only thing that really works for people is loving them where they're at. To love somebody equals time. You've got to give people time and actually hang out [with them]. I guess that's where my patience comes in. [Some people] dive in so strong and heavy that it's almost like they're using it [to] push people away. And I didn't want to do that. I wasn't trying to push people away.
Did Brian "Head" Welch [former guitarist for Korn who left the band in 2005 after becoming a Christian] play a role in your embracing Christianity?
I guess he did play a role, in a way, of me almost learning from… not really his mistakes, because that's his choices of what he wanted to do. But I don't want to have to quit Korn or do this or do that. I didn't follow his ways, and I'm glad, because I'm following the way that I've been called to follow, and he's going the way he's been called to follow. But who knows what tomorrow will bring. Head may be back rocking out with Korn [one day].
So you're still with the band, and you plan on staying with them?
Yeah. Korn's actually in the studio right now with the producer that did the first two Korn albums, Ross Robinson. We've been in for about a month—me, [guitarist] Munky and [drummer] Ray Luzier and [singer] Jonathan Davis, and we're working on a new album. We have a tour coming up April 25th, a U.S. tour. Then we take off to Europe in June for a couple of weeks.
Like I said, I was real humble, and changed by action, not by words. And action speaks louder than words, so I kind of just [became a Christian] and really never said anything.
It's funny, because Jonathan Davis would say something to somebody and he's, like, "Oh yeah, Fieldy's a Christian now," and I'm like, "I never even told you that." My actions were speaking for me. I've had a few friends do that, where I've never really said [I became a Christian].
NFL Quarterback Drew Brees Speaks About His Faith in Jesus
Michael Franzese was "one of the biggest money earners the Mob had seen since Al Capone" and the youngest individual on Fortune magazine's list of The Fifty Biggest Mafia Bosses, ranking #18, just five behind John Gotti. Today, Michael is a follower of Jesus Christ, dubbed "The Born Again Don" and a man on a mission. The story of his conversion is a testament of God's willingness to reach into the heart of any man, regardless of their past or the present condition of their lives.
Michael's testimony describes his very own Damascus Road experience, from his early days in the Mob and rise to power to God's leading him to do the unthinkable: quit the Mob and follow Jesus. Determined to use the experiences of his former life for the benefit of others, Michael's compelling testimony explodes from a deep passion to inspire others to make positive changes in their lives against intimidating odds. Michael's amazing story and engaging delivery have brought record attendance to events all over the country. He candidly explains how he survived dozens of grand jury appearances, three major racketeering indictments, five criminal trials, seven years in prison and a Mafia death sentence. His unique perspective and direct approach captivates all kinds of audiences, from teens to athletes to business execs to the average seeker trying to make it on his/her own in the world. Michael's theme always hits home: "You can't escape the long arm of the law—and you sure can't escape the longer arm of the Lord."
Franzese is the author of the autobiographical Quitting the Mob and Blood Covenant. His most recent release is I'll Make You An Offer You Can't Refuse, which features insider business tips that helped Michael make millions (minus the illegal part)!
Michael's compelling story of transformation has been featured through both Christian and general high profile media. Most recently, he was featured on The 700 Club, 100 Huntley Street, Billy Graham's Decision Today Radio, Family Network "Open House", Daystar Network, LeSea Broadcasting "Harvest", TBN Praise the Lord & Damascus Road, Life Today with James Roberson. He has also been featured in Life Magazine, Fortune Magazine, Vanity Fair, Sports Illustrated, GQ, L.A Times, 48 Hours, The Today Show, Nightline, ABC Primetime, NBC Nightly News, ESPN, HBO Real Sports, Jim Rome Show, PBS "All Things Considered", the prestigious "The Eleventh Hour" for PBS, with guests Dennis Weaver and Jeb Magruder and was featured in the March 2003 issue of Cigar Aficionado.
Steve McQueen Finds the Answer
The leading man of his day, with his rugged good looks, blond hair and blue eyes, Steve McQueen defined what being "cool" was for his generation. Born into a Catholic family, Steve McQueen, was a small town boy with little education who came from a broken home. He sought the love he had missed as a child in the adoration of fans of his many action movies including:& The Great Escape, Bullitt, The Sand Pebbles, Papillon, The Getaway, and many others.
He lived a fast-paced life that often resembled one of his movies: fast cars, fast women, cigarettes and alcohol. He died at the age of fifty on November 7, 1980, after suffering from mesothelioma, a rare form of lung cancer. But that is not the end of his story.
When Steve discovered he had lung cancer, he began to take stock of his life, and to look for the answers and for the hope he had not found during his lifetime. He wanted to know what came next and was yearning for hope in the "beyond." Both his third wife Barbara Minty and his flying instructor Sammy Mason encouraged him in his spiritual search.
McQueen eventually made it to a Billy Graham crusade. By the end of the meeting, Steve McQueen had given his heart to Jesus Christ. He still had many questions, though, and he sent word through one of the evangelists he wanted to meet with Billy Graham. They were able to meet in a limousine on the way to the airport.
McQueen told Graham be believed Jesus was the Son of God and he had put his trust there, but he had many questions about the scriptures. Most importantly, McQueen wanted to know how could he be sure heaven awaited him. Graham turned his Bible to Titus 1 verse 2: "In hope of eternal life, which God, WHO CANNOT LIE, promised before the world began…"
The was the verse he had longed to hear. McQueen was excited and asked, "What was that verse again?" and told Graham he needed a pencil and some paper so he could write down the verse. Billy Graham instead gave Steve McQueen his Bible.
Some time after this Steve went to Mexico for some experimental cancer treatments. He died there… but that was not the end of Steve McQueen. They found his Bible in his hands, turned to Titus chapter 1 and verse 2, with his finger laid on top of that verse, his future sealed by God, WHO CANNOT LIE.
Randy MacDonald
As a kid from Canada it was my dream to become a NASCAR champion. In 24 years of racing I have accumulated several trophies and won many honors. I have enjoyed the privilege of racing in NASCAR's top level, against the best stock car drivers in the world at famous racetracks with huge crowds. Somewhere along the way my priorities became confused. Yes, Jesus was my savior but racing had become my god. I'm still racing but I have learned to put God first. He has promised to make me a winner in life's race by following him.
1 Corinthians 15:57
Brazilian Soccer Star KAKA
Ricardo Izecson dos Santos Leite popularly known as KAKA, was born to a middle-class family in Brasilia. He became deeply spiritual when he was 12.
"I learnt that it is faith that decides whether something will happen or not," he said.
Kaka's own faith was strengthened in October 2000 when he slipped on a swimming pool slide and broke a vertebrae.
"It was a time in which I learned you have to give your best every single day because the next day you might not be able.
"I had gone to visit my grandparents in Caldas Novas in Brazil and I slipped on a swimming pool slide. When I fell into the water I hit my head on the bottom of the pool and twisted my neck, which caused a fracture of a vertebra.
"All I knew was that anyone with a broken neck would be disabled for life. The doctor told me I would not be able to play for at least three months, then they would be able to tell if I was going to fully recover.
"But after two months the injury had healed and I was able to resume my football career. That was when I knew God was looking after me and that He was on my side."
"The doctors said that I was lucky to be able to walk normally," "They were talking about luck and my family was talking about God. We knew that it was His hand that had saved me."
Kaka also said: "That helped shape me, principally as a person, but as a player too.
Kim Anthony
Then, the summer after my freshman year, I was hanging out with some friends back home in Virginia found myself staring down the barrel of a gun. In that moment, it didn't matter what others thought of me. It didn't matter that I didn't seem to have value to my father. Nor did it matter that I had just won a national championship a few months before. In that moment, everything I had looked toward to give me a sense of value was suddenly worth absolutely nothing.
I was fortunate to walk away from that situation unharmed, but I walked away thinking, 'there has to be more to life than this.'
There is.
That very next year, I met someone who explained to me that there indeed is so much more to life than I had been experiencing. He shared with me that God loves me, has a plan for my life, and that I can have a personal relationship with God through Jesus Christ.
That's what I had been missing. That's what I had been searching for.
Catriona LeMay Doan
She's one of the fastest women on skates and the pride of a nation. Flying across the 500m finish line in a record 38.21 seconds, Catriona LeMay Doan thrilled everyone with her gold metal skate at the 1998 Olympic Winter Games in Nagano, Japan. And just 5 days later she did it again, wining a bronze in the 100m.
Canadians were thrilled. "Sometimes it'll hit me – wow, I did that," she says. 'When I meet people who have that reaction, I think, 'it's not a big deal really.' I'm the same person…I look at life as a process, and if I took the gold medal as the top, there'd be nowhere else to go."
This down-to-earth attitude keeps the Saskatchewan native grounded – even when things don't go as expected. Back in the 1994 Winter Olympics, Catriona caught an edge and crashed in one of her races. Her hopes for a medal were dashed before millions of television viewers. "It was a definite career low," recalls Catriona. "But God used that experience as a big turning point in my life."
After that, Catriona found herself asking why. Even people at the top of her game didn't seem to be content. There had to be more to life. "I started looking for answers to my questions," she recalls. "I met with someone who explained what it means to have a relationship with God." Three weeks later, Catriona dedicated her life to Jesus.
Mr. T
I was baptized when I was four years old. But when you're younger you really don't understand that stuff. Then I got re-baptized in 1977. As a Christian you forgive and you feed the hungry, and clothe the naked, and you visit the sick, and comfort the lonely. If I'm a true follower of my lord and savior Jesus Christ, I got to do the things you're supposed to be doing. You just can't say, "I believe in Jesus" and then don't forgive somebody [or] hold a grudge against somebody. Don't get me wrong–if somebody jumps me I'm gonna fight, but I don't send out hate vibes if I don't like that person or the way that they dress. That's negative energy. Then there is a contradiction to the God I serve, the God of love. He forgave me, and I should do good to the people who cross me.
John Schneider
How did you come to Christianity? Was it by questioning?
It opened a little door and made me wonder, "Huh, if he believes this, then maybe I better look into it." That's when Christ comes into your heart – bam! It's like "I could have had a V-8!" Once it makes sense, it will never not make sense again, but until it does, it doesn't make any sense.
John: No, it was by Johnny Cash. I lived with Johnny Cash for a year and if somebody as rough around the edges as Johnny Cash was could say that Jesus was his Savior, then there had to be something to it. If Johnny Cash felt the need to keep a Bible in the trunk of his Mercedes next to his fishing pole, then there had to be something to it.
The reality of Christ was so evident in Johnny Cash, who never preached a word to me, that it was undeniable. It was undeniable in every breath that I saw Johnny Cash take. That's not the case with a lot of other people. A lot of folks chase people out of the kingdom with their preaching. Johnny Cash never did that.